Amy Rose
Full Name
Amy Rose
First Appearance
Sonic the Hedgehog CD
Species
African Pygmy Hedgehog
Affiliation(s)
Freedom Fighters, Team Rose



Amy Rose
(known as
Rosy the Rascal
or just
Rosy
when she was younger) is a main character in the
Sonic the Hedgehog
series and is the self-proclaimed girlfriend of
Sonic
(though Sonic did start dating her recently). She first appeared as an 8-year-old in her appearances (
Sonic CD, Sonic Drift, Sonic the Fighters, Sonic R, Sonic the Hedgehog Game World
) until
Sonic Adventure
, where her appearance was changed as well as her age--she appeared as a 12-year-old in
Sonic Adventure
, opposed to being 8 in her earlier appearances. Amy first appeared in a Japanese Sonic manga series based on the games, where she was the girlfriend of Nikki (Sonic in his normal form). Sega then started to use the character and redesigned her for
Sonic CD
.
Amy made her videogame debut on the Sega Mega Drive on the game
Sonic CD
. Amy (or then known as Rosy the Rascal) is first lured to Little Planet, the main setting of the game from a card telling her of her encounter with
Sonic
.
Eggman
decides it's his chance and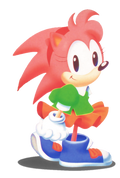 kidnaps Amy right in front of Sonic. Sonic moves on to save Amy by defeating his robotic counterpart created by Eggman,
Metal Sonic
.